Greetings from the President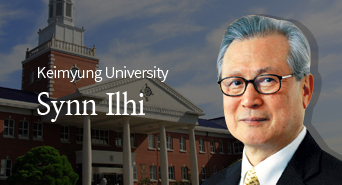 Dear members of the Keimyung academic family,
The University extends words of welcome to all our members, both returning and entering. The new academic year should have begun with great expectations of a new, vibrant university life. Indeed, the flowers and trees blooming across the campuses are more than ready to welcome you with bursts of colors. But this year is different. The corona virus-19 is still too much with us and has become not only a local problem, but has grown into a global issue. As a measure to safeguard our family against the disease, we have shut down our campuses for the time being. We are continuously putting forth our greatest effort to prevent coronavirus from affecting our campuses and to ensure the health and safety of all Keimyung family members.
Whatever the course of the pandemic may be, all of you, including our entering class students, are our pride and hope for the future. The freshman class should remember that your admission into the Keimyung academic community is a form of recognition of your achievements thus far. Each and every one of you have been awarded this opportunity as a laurel for your effort and perseverance shown throughout your secondary education. At the same time, this opportunity marks the beginning of yet another vital phase of your life. We hope that your time at Keimyung becomes a time of intellectual and personal growth for you, and by the time you graduate you will have become young men and women of substance, all respected by your fellow men and loved by your alma mater.
This academic year, we have decided to postpone the start of the spring semester due to the corona virus. It is very unfortunate but could not be avoided. Were it otherwise, the University would have expressed its pleasure of welcoming you in diverse ways. Foregoing all institutional ceremonies and instead of on-site classes, we are now holding on-line classes until the beginning of April. All instructors are working hard and successfully to prepare video teaching materials for on-line classes, the content and format of which are constantly improved. Although there is no personal contact between the teacher and the student, we are doing the very best under the circumstances. The classes that require practices, rehearsals, experiments, internships, etc. will have other means to supplement the courses.
Regarding Keimyung's teaching curricula, we are emphasizing what is called "tri-literacy" education. This involves training in one's own specific major, computer software programing, and foreign language. The "tri-literacy" initiative aims to help you better prepare for the new industrial society while acquiring knowledge in the humanities. In addition to our regular class offerings, there are many extracurricular programs designed to challenge you to open your own future.
Keimyung family members,
we are now in a harsh educational environment that we have never experienced before. Worse yet, the coronavirus that rages all over the country and the world poses additional challenges that we need to tackle. We are doing our best to meet and overcome these challenges by initiating proper measures and implementing them with necessary programs. To help solve the virus infection, for instance, we have offered one of our university hospitals, the Daegu Dongsan Hospital, to be used solely for the treatment of the virus patients. More than 300 of our medical staff members are working in three shifts to tend to the corona patients. Our doctors and nurses and administrative staff members are exposing themselves everyday to the danger of infection at the very frontline of treatment. The Hospital has since been recognized by the government as a center for the treatment of the disease. For the professional, dedicated work ethics of our medical team, Keimyung has received many accolades from both domestic and international news media, including BBC, New York Times, ABC, and China Report. We are faithfully keeping our institutional character as an unassuming but important lighthouse that guides the larger societies around us as a beacon of humility and responsibility.
The new academic year of 2020 poses more difficult issues than previous years. The population decrease threatens all sectors of our society, especially the universities in Korea. Keimyung will keep recruiting highly-talented students and offer them courses designed to give them both professional capabilities in their major fields and a deep sense of confidence in themselves so as to pioneer their own future. In so doing, we will also prepare for the 3rd phase of University Accreditation Appraisal and the 4th phase of Brain Korea Project. In the area of local industry-academia cooperation, Keimyung's Daegu-Gyeongbuk Social Innovation Center, which we established last year, should serve as a foundation for providing theoretical backgrounds and specific methods for social innovation. Keimyung will also continue to play a pivotal role in the development projects of automobile industry and medical technology.
Keimyung University is now celebrating our 121st Anniversary. A small Christian, medical and teaching institution named Jejungwon came into existence in 1899 with the founding principle of rigorous education for the self, dedicated service to others, and courageous exploration of new domains of human endeavors. That institution has now grown to a comprehensive university with six campuses, namely Seongseo, Daemyung, Dongsan, Dalseong, Chilgok, and Gyeongju, all consciously trying to realize the founding principle.
May the Lord guide Keimyung University and all its members as we endeavor to serve the Kingdom of Truth, Justice and Love for the well-being of the greater family of man.

President
Keimyung University