Greetings from the President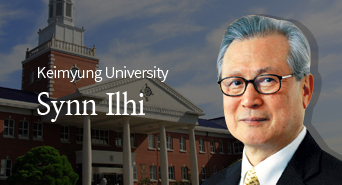 Dear Keimyung family,
The worst of the summer heat has finally passed, but it has produced for us a great harvest of crops for the fall. Just as the sweltering heat and storms have produced a good harvest, I hope your summer work led to a fruitful blossoming.
This summer we are proud of many of the accomplishments achieved by our students and faculty. Despite the heat, students took part in a variety of activities both in and out of school. Many concentrated on their academic work, and some of them even went on an overseas outreach program to help the less privileged. A Keimyung team of students competed and won the Grand Prix at the KSAE Baja/Formula/EV self-designed vehicles race, a competition which 195 teams from 102 prestigious colleges across the country participated in. The Keimyung Taekwondo demonstration team showed Keimyung spirit at the 2019 US Open Taekwondo National championships. These are just a few of the ways in which our students have helped increase our profile internationally. I hereby express my deep appreciation and admiration to all of those students and all the rest of our family for following Keimyung's mission of exploring new worlds and discovering new values, especially considering the challenges we face in the educational environment.
This semester, we are joined by 22 new faculty members in 16 departments including the Department of Medicine. We will continue to bring in the best talents from home and abroad since we believe that doing so will not only enhance the academics of the school and but also clear the way for a bright future.
At the beginning of the new semester, we will kick off the process of recruiting students for 2020. I would very much appreciate your cooperation in attracting those who will contribute to the Keimyung experience and who will one day do great things and bring honor to our university. I also would like to thank you in advance for your preparation for the Education Ministry's upcoming University Accreditation Appraisal.
Changes in the educational environment pose new threats and challenges for us, particularly concerning finances and student recruitment. The tougher the external situation is, the stronger our commitment to our basic roles of education and research must be. Please keep in mind this God-given mission to Keimyung University, which is now celebrating its 120th anniversary. With that said, please make a concerted effort to achieve academic excellence, enhance educational ethics, and further spread our mission.
I hope you all enjoy the new season of sharing and gratitude. May God's blessings be always with you.

President
Keimyung University