From the President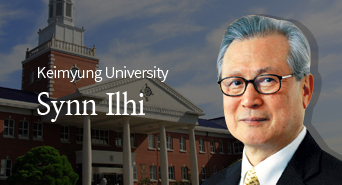 The humid summer heat is finally passing and the tree branches have begun to sway gently heralding the fall. I trust that the members of the Keimyung academic community are all well in this time of changing seasons.
The past semester was a time of unprecedented hardship for the entire mankind. We are still struggling with the pandemic spreading throughout the world, floods destroying human lives and vast lands in Asia, fires raging for months in Australia and North America and other natural disasters in many parts of the world. In our case, we were heavily hit by the highly contagious disease, the COVID-19. To counter and contain the viral terror, the medical staff members of Keimyung University hospitals, especially the Daegu Dongsan Hospital, have literally put their lives on the front line of the struggle and dedicated themselves to the well being of neighbors near and far. They were the embodiment of the University's fundamental values of service to others.
You, our students, are beginning a new semester. Your time here is very critical in the sense that it must become a time of growth for each and every one of you as an upright human being. You are like the uncut lapis lazuli rock standing in front of the Main Building. You must learn to carve and indeed polish yourself to become a precious jewel, an indispensable being in a wider world. You are an only protagonist in the drama of your life. The people around you, whether they are your family, teachers or friends, or however they are important, are all supporting actors. I hope that you create your own value and identity with the experience, knowledge and wisdom of your supporters around you at Keimyung University.
With COVID-19, the future will be quite different from the present one of familiarity. Need for distancing, whether personal or social, will cause weakening of interpersonal bonds and intersocial relationships. The changing conditions of human being will continously challenge traditional higher education institution. The content and manner of instruction, usage of educational facilities, and management of budget and human resources will have to undergo a constant review of value, efficiency and priority. Keimyung, of course, will actively and positively respond to all such changes and obligations. Let us together keep creating a better Keimyung in a changing age.
Wishing you a meaningful and successful semester,

President
Keimyung University